This book was amazing! If you can't afford to buy another book then ask your library to order a copy and borrow it, but whatever you do...read this story ASAP! You'll be glad you did!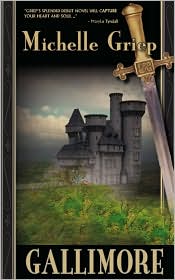 About the book:
Jessica Neale's faith is lost the day of her husband's death, and with it, her belief in love. In a journey to find peace, she encounters a gentle, green-eyed stranger who leads her to the ruins of the medieval castle, Gallimore.
On his way to battle, Colwyn Haukswyrth, knight of Gallimore, comes face to face with a storm the likes of which he's never seen, and a woman in the midst of it who claims to live centuries in the future. The Lady Jessica of Neale is an irksome, provoking bit of woman to be sure. And she's about to turn his beliefs on end.
The product of a family rooted in pain and evil, Colwyn has focused on naught but himself-until Jessica. To a mysterious prophecy stitched on a tapestry, through the invasion of Gallimore itself, Colwyn and Jessica are bound together by a lesson in forgiveness and love-a bond that might be strong enough to survive the grave.
My review:
WOW!
Gallimore
is the most amazing time travel medieval romance novel I've ever read! I read most of the story in one day. I couldn't put it down. This story is ten times better than
The Time Traveler's Wife
and it's comparible to the best fantasy fiction on the market today. Michelle Griep has the plotting, pacing, and heart pounding suspense wrapped up in a tale that is one of the most intense, page-turning novels I've read this year.
Griep has a gift for describing details that bring the setting to life, and she doesn't give anyone in the story a break. Not even the reader. The sites, smells, and heartache of that day were all brilliantly portrayed in
Gallimore
. Griep can describe the grossest things better than most male authors. I could see it all as I read. And the battle/fight scenes will blow your mind. Her skill for writing this type of story is impressive because to have a truly fabulous medieval novel there has to be conflict, terror, and impossible feats of chivalry to make the story compelling. Griep has all this perfectly crafted in
Gallimore
.
I'm so impressed. Truly. I was in another world the entire time I read this story and it was a fabulous experience. What an escape. I felt their emotion, all of the characters' fears, their joy, their longing for love. It was amazing. I can't say enough great things about this story. The spiritual thread was incredible, too. And the gritty themes and edgy aspects of the romance were scrumptious.
The end of the story brought it full circle and concluded in one of the most satisfying endings you can imagine. Not many books leave me smiling and sighing at the end.
Gallimore
was perfectly executed from start to finish. I saw no weaknesses whatsoever. This is being added to my best fiction of 2008 list.
Gallimore
was published by
Black Lyon Publishing
and was released in December 2008.