Okay, this will be a fun contest. If you want your name entered in the "hat" to win this book, tell me how many times you think you have watched The Wizard of Oz on television. For some of us that was an annual event growing up. I'll start. I must have watched this movie twenty times over the years. I love it! Now the book isn't about the movie, but it has similar themes that are subtley there. I will pick a winner next Sunday, April 19th. :)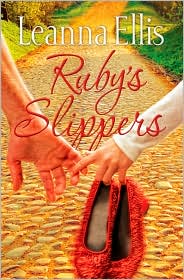 About the Book:
Dottie Meyers, 35, is a real-life Dorothy Gale living with her little black dog on a small farm in Kansas that's about to be hit by a tornado. Knocked unconscious by the storm, she awakes three months later at a recovery facility in California where her father, last seen when she was four, has left her a mysterious pair of ruby slippers.
But unlike The Wizard of Oz, this isn't a dream, and the yellow brick road journey that Dottie and three friends are about to take from Los Angeles to Seattle in search of her dad will show the realities of a broken childhood. More importantly, everything connected to those sparkling red shoes will prove to Dottie that there's only one true wonder worker behind the so-called curtain who can heal her wounds and prepare the heart for love.
My thoughts:
I've read the first five chapters of this book today and it is GOOD! I am definitely going to finish it. Leanna knows how to write a powerful, emotionally gripping story. I know this because I totally loved Elvis Takes a Back Seat! Awesome read!