FYI - I plan to update the date on this post weekly so that it will stay close to the top of my page. However, I started this challenge at the tail end of March 2009.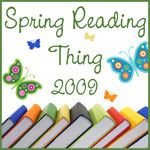 To get a button for your blog and the list of rule go
HERE
*************************************************************************************
Many of you know what reading challenges are all about. But for those of you who don't, here are the basics.
Essentially, Spring Reading Thing 2009 is a fun, low-pressure reading challenge open to anyone and everyone. It will take place March 20th-June 20th (which is, coincidentally, the spring of 2009).
To participate, here's what you need to do:
Create a list of some books you'd like to read or finish this spring.
Feel free to set some additional reading goals (such as reading to your kids two hours per week, getting through your pile of magazines, etc.). This is completely optional.
Write a blog post including the list of books you want to read and any additional goals you've set, and get ready to post it on your blog on March 20th.
Visit this blog on March 20th to sign up. I'll have a Mr. Linky set up that morning, so you can submit a link to your personal Spring Reading Thing post, and it will be added to the master list.
Read! Work on your goals throughout Spring 2009.
Report your results. Write another blog post in June to let everyone know how you did.
Have fun! Visit other participants to see what they're reading. Write reviews if you're so inclined. But most of all, enjoy your spring reading.
Here is the list of some of the books I either bought or acquired speficially to read for my own personal pleasure and not because I HAVE to read them for a review, although I will post a review when I finish unless I end up not liking them. I hope I can read even half of the books on my list!
When I am reading a book I will highlight it in
bright green
type! When I finish a book I will highlight it in
bold orange
type! Stop by and check on me to see how I'm doing.
The Convenient Groom
by Denise Hunter
Lying on Sunday
by Sharon Souza
The Apothecary's Daughter
by Julie Klassen
The Heretic Queen
by Michelle Moran
Snow Angel
by Jamie Carie
No Place for a Lady
by Maggie Brendan
Stealing Bradford by Melody Carlson
Viva Vermont by Melody Carlson
Get Cozy, Josey by Susan May Warren
Longings of the Heart by Bonnie Leon
Healing Waters by Nancy Rue
Maggie Come Lately by Michelle Buckman
My Beautiful Disaster by Michelle Buckman
Grace in Thine Eyes by Liz Curtis Higgs
The Big Picture by Jenny B. Jones
In the Shadow of the Sun King by Golden Keyes Parsons
Desperate Pastors' Wives by Ginger Kolbaba & Christy Scannell

That's it for now. I'll be lucky to get half of these read. Did you notice a pattern here, though? The books are mostly historical fiction, romance, and Young Adult fiction. Maybe I should just stop reading Suspense and Mystery books since I rarely go out of my way to read them. I'll let you know at the end of the challenge.