To enter the contest to win this book simply post a comment about whether or not you've ever taught school (regular or Sunday Schoo) and if you have a favorite age group of kids to teach. If neither of those apply, then post a comment about whether you like to cook, and if so, what is your favorite dish to prepare. I'll start. I've been a sub for high school kids, worked as a Sunday school teacher for little kids, and my favorite thing to cook is lasagna. In fact, one is baking in the oven right now. :) I will pick a winner next Sunday, June 28th. Don't forget to leave me a way to contact you if you win! Have a great week.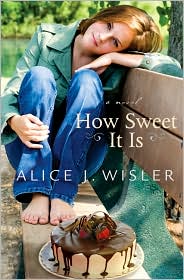 About the book:
Deena Livingston leaves behind a broken romance and her chef job in Atlanta to spend time at her grandfather's cabin in the mountains of North Carolina. But her grandfather has an odd request: he wants Deena to teach cooking classes to the ragtag group of middle-schoolers who attend the local afterschool program, The Center. Reluctantly, Deena agrees, but how is she supposed to convince these kids that cooking at home is better than eating at McDonalds? And after all she went through in Atlanta, why is she attracted to Zack, the social worker at The Center? Can a Dr. Seuss-quoting plumber, a curly-haired basketball player, and a group of middle-schoolers change Deena's outlook on life?
My thoughts:
I read Alice's first book and I liked her quirky characters. This book sounds interesting, too. I haven't started reading it yet. I'll post a review when I do.