To win a copy of the book simply post a comment about either the picture on the cover (What do you think those big eyes are trying to convey to you?) or you can say something about the description of the book (below). Don't forget to leave me a way to contact you if you win!!! The winner will be notified by e-mail next Sunday March 8th.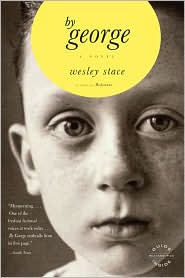 About the book:
In the illustrious history of the theatrical Fishers, there are two Georges. One is a peculiar but endearing 11-year-old, raised in the seedy world of '70s boarding houses and backstages, now packed off to school for the first time; the other, a garrulous ventriloquist's dummy who belonged to George's grandfather, a favorite traveling act of the British troops in World War II. The two Georges know nothing of each other--until events conspire to unite them in a search to uncover the family's deepest secrets.
Weaving the boy's tale and the puppet's "memoirs," BY GEORGE unveils the fascinating Fisher family--its weak men, its dominant women, its disgruntled boys, and its shocking and dramatic secrets. At once bitingly funny and exquisitely tender, Stace's novel is the unforgettable journey of two young boys separated by years but driven by the same desires: to find a voice, and to be loved.