To enter the giveaway simply post a comment about what intrigues you about this book and I will enter your name. I'll pick a winner on Sunday. Don't forget to leave me a way to contact you if you win. Best wishes!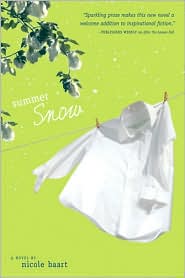 About the book:
Julia DeSmit is finally learning to accept her new life. Optimistic and anxious to begin again after dropping out of college, she is taking fumbling steps down a challenging yet hope-filled road.But the careful existence Julia has begun to build falls hopelessly to pieces when her estranged mother, Janice, appears on the front porch one icy March night. Mother and daughter have not seen or talked to each other in ten years, and a decade of anger, resentment, and bitterness follows in Janice's wake, along with a surprise Julia could never have anticipated. Julia is convinced that which is broken cannot be mended. Yet when she faces the very decision her mother did years before, she begins to realize what it means to truly accept grace. Will it be her undoing or the impetus for a change she'd never dared hope for?
My thoughts:
I loved, loved, loved After the Leaves Fall by Nicole so I know I'll love this one, too. I've only read through page 35 but so far I'm liking it as much as before. I just like the way Nicole writes. It's unique and her voice is confident and strong, almost lyrical. So be assured a review is coming for this one. I just have SO many books to read that it may not be as soon as I'd like.