To enter for a chance to win a copy of this book simply post a comment about why you love suspense, and if you have a favorite suspense novel, by all means share with us.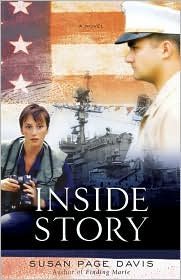 About the book:
Following up on the adventures of men in uniform in Frasier Island and Finding Marie, Susan Page Davis offers readers another suspenseful novel of international diplomacy and romance.
Claudia Gillette, an upscale magazine correspondent, will go to any lengths for a good story. Bill White, a navy lieutenant, performs secret missions all over the world. Attraction sizzles between them, but these two can't synchronize their globe-trotting watches long enough for a date. Claudia also has more than romance in mind...she wants the inside story on Bill's exotic assignments.
When she goes over his head and obtains permission to join his outfit on a sensitive mission in the Philippines, Bill is both angry and afraid for her. Will her presence endanger his team? When things go badly, only faith in God can give them hope for tomorrow...but even if they both make it, what's the inside scoop on Bill and Claudia having a future together?
My thoughts:

I loved the first two books in the series so I know I'll love this one, too. Susan Page Davis is an excellent suspense writer and always keeps me on the edge of my seat. And if you're not sure about the pulse pounding action, check out the video trailer of her book on Barnes and Noble's site. Just click on the overview tab if you don't see the video right away. Here is the link.
Inside Story book video trailer