To enter this giveaway simply post a comment. I will draw a winner's name on Sunday the 28th. Please leave me a way to contact you if you win. Thanks!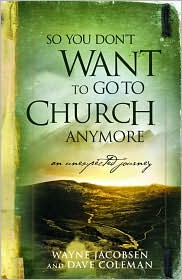 About the book:
Jake Colsen, an overworked and disillusioned pastor, happens into a stranger who bears an uncanny resemblance (in manner) to the apostle John. A number of encounters with John as well as a family crisis lead Jake to a new understanding of what his life should be like: one filled with faith bolstered by a steady, close relationship with the God of the universe. Facing his own disappointment with Christianity, Jake must forsake the habits that have made his faith rote and rediscover the love that captured his heart when he first believed.
My thoughts:
I was never sent this book so I can't tell if it's fiction or non-fiction, but based on the name of the book and the chapter titles it looks like non-fiction to me. However, the description reads like a fiction novel, so I dunno. Since I haven't read it I can't vouch for the contents. What is posted above is the description on Barnes and Noble's site. The publisher is the same company that published
The Shack
, so I don't know what that means exactly, but there you have it. That's all I know. Enter if you want to read the book. :) Have a Merry Christmas.