To win a copy of this book merely post a comment telling me why you want to read it. I will pick a winner Sunday. Have fun and bet wishes to you.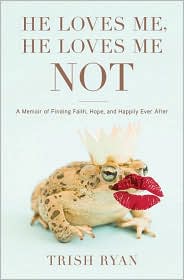 About the book:
Trish Ryan was the quintessential successful thirtysomething woman -- she had a career as an attorney, a nice car, and a succession of men clamoring for her affection. But despite all her accomplishments, the things by which she defined her life continually left her disappointed, especially when it came to dating. Like the heroines of chick-lit novels and Sex and the City, she couldn't escape her bad luck with men: men who cheated, who left her, who made her a lesser version of herself. After years of trying everything out there to make love work -- new age philosophy, feminist empowerment, myriads of self-help programs -- she finally, hesitantly, decided to give God a try. This is Ryan's story of how her search for the right guy turned into the search for the right God, and (spoiler alert!) how she ended up with the happily-ever-after ending.
My thoughts:
I started reading this story yesterday and I'm on page 103, chapter 11. I just can't stop reading this memoir. It reads like a fiction novel. If you've ever felt depressed about relationships that were going nowhere, you will identify with the author. If you had a lousy marriage that was downright emotionally abusive, you will understand the author's perspective. It's almost depressing, but I sense hope is just around the corner. And I thought I had it bad before I was saved! Reading this book helped put some things into perspective for me. I'll finish this one for sure and post a review soon.