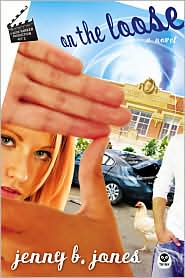 About the book:
Life is looking up for teenage Katie Parker. After being placed in a new home, she's finally adjusting to her foster family. But tragedy shakes her fragile world as a tornado rips through the town of In Between and her foster mother is diagnosed with cancer. Faced with the possibility of losing a loved one, Katie begins to doubt if God really does care.
Making matters worse, Katie is accused of stealing at school. But in the middle of her chaotic-and often humorous-life, Katie reconnects to God's amazing grace and love.
This is the second release from the Katie Parker series, books for teen girls that explore a less-than-perfect life and the heroine who perseveres through wit, sass, and faith.
My review:
I thought
In Between
was the best YA novel I'd ever read (other than my own - LOL), but I was wrong.
On the Loose
, A Katie Parker Production, Act 2, was even better than
In Between
! Katie really grows a lot over the course of these first two books in this series, and toward the end of
On the Loose
, I was wiping tears from my eyes. I love Katie as if she was my own daughter (I have a 16-year-old son) and even though she's a fictional character when her heart broke, so did mine.
When I wasn't laughing my head off reading
On the Loose
, I was wiping tears from my eyes. I drove my husband up the wall by asking him if I could read him just one more page. This story is read-out-loud funny. Seriously. I couldn't help sharing the humor because it was so zany and tongue-in-cheek, yet insightful and deliciously entertaining. I can't say enough great things about this book or this series. Jenny B. Jones is a favorite author, and this book makes me even more sure of my decision to rank her my #1 favorite YA author of all time. I'm reading every book she writes.
On the Loose
was published by
NavPress
(Th1nk books imprint) and released in September 2007.