I read this back in July before it was released! It was awesome. My review is below. To get your name in the drawing simply enter a comment. Don't forget to leave me a way to reach you if you win!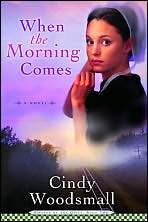 From the Publisher:
Her relationship with former fiance Paul Waddell in tatters, Hannah Lapp has fled her home in hopes of finding refuge with another Amish outcast, her shunned Aunt Zabeth in Ohio. Hampered by limited education and hiding her true identity, Hannah struggles to understand the confusing world of the
Englischers
and embrace unfamiliar freedoms, but a deepening friendship with the handsome Martin Palmer renews her courage to face the future.
My review:
If you loved
When the Heart Cries
, you are really going to love this sequel. The story begins with Hannah searching for her Aunt. She ends up all alone, cold and hungry. You can't help but feel for her since the ending of the last book brought out the many injustices she faced at the hands of people who were supposed to be there for her. Of course, she does finally find her aunt and her life starts to finally turn around.
Meanwhile, Paul hasn't forgotten Hannah, and her sister Sarah is completely losing her mind as a result of Hannah's disappearance. There is drama with other members of Owl's Perch, too, but I won't spoil it by sharing the details. In short, this story was just as hard to put down as the first book in the series. I personally think it was even more romantic. But you start to feel torn. Of course, the author resolves just enough of the issues that you aren't freaking out when the story ends, but she leaves some loose ends that make you crave the next installment. I can't wait to read the third book in this series to find out what Hannah decides to do with her life.

When the Morning Comes
was published by
Waterbrook Press
and released for sale on Sept. 4, 2007.