To enter your name in the contest to win this book, simply post a comment about your favorite subject to read about from the Ancient world. Best wishes! I'll draw a winner next Sunday!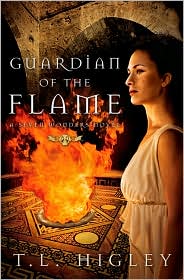 About the book:
The year is 48 BC. Sophia, a woman hurt by past loss, guards the famous lighthouse of Alexandria, Egypt, in order to hide herself away from a world she deems cruel and unloving. But there is no escape. Political turmoil swells as Roman general Julius Caesar and his legion storm the city, and Cleopatra, Greek queen of Egypt , fights to retain her country against both Caesar and bloodthirsty rivals within her own household. Sophia is caught in the middle between a loyalty to Cleopatra and her maddening interest in Bellus, the Roman soldier whom Caesar has instructed to overtake the lighthouse.
My thoughts:
I just finished reading
Cleopatra's Daughter
by Michelle Moran this past week. I'm in the mood for more Roman Historical fiction so I'm reading Guardian of the Flame this week and will post a review when I'm done...