To enter to win a copy of this novel simply read my review of this book below and post a comment related to what I've noted. I will pick a winner next Sunday. :)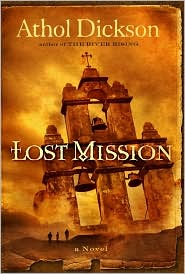 About the book:
Buried beneath the poverty-stricken barrios and wealthy enclaves of Southern California, a Spanish mission is uncovered during a construction project---along with evidence of a crime. When four people begin work on unraveling the mystery, they each face a moral dilemma. Will their choices perpetuate the very crime that doomed the mission hundreds of years before?
My review:
I wish there was a way to give this story 4.5 stars but since I have to choose I'd say it's closer to four than five. The reason for this has more to do with a few minor things, like how the story dragged in the beginning. But that's because it was written in a "telling" style of storytelling at the outset. To give you an idea of what I mean, think about the movie Ella Enchanted and how it starts out...Once upon a time there was a little girl named Ella...etc. Anyway, it starts out with the Mexican Spanish settlements and the Catholic padres in Califormia in the 1700s and each chapter morphs into the present day almost seemlessly and sometimes even in the same paragraph.
However, the transition is not always subtle, like when it says...but two hundred years from that day such and thus happened, then it breaks back into the story. It's the oddest style, but it's different and I have to say that was hooked on this story once I started to see what the author was trying to do. Some people might not give the story a chance, but I'd say if you find the beginning a bit dry, give it a chance. It all goes together nicely when you see the pattern. I also didn't agree with some of the theology, but in spite of that I found some of the spiritual lessons and insights to be profound and compelling.
I love it when a story makes me think, especially when there is tragedy upon tragedy that could've been prevented. You can see the ship sinking, but there are many unforseen waves that rise up and hit you, the reader, along the way. Mr. Dickson knows how to torture his characters so that you feel their pain. This makes the story a page turner for me. I didn't know what to expect and I love that when I'm reading a book. I also love stories that show us just how deceitful and wicked our own hearts can be and why we need a savior every day and not just when we find faith convenient or something to be used for our benefit. Well done, Athol. I enjoyed this story because it made me think about my life. Highly recommended.