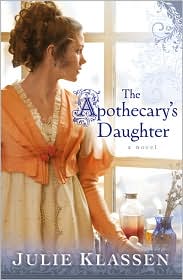 About the book:
Lillian Haswell, brilliant daughter of the local apothecary, yearns for more adventure and experience than life in her father's shop and their small village provides. She also longs to know the truth behind her mother's disappearance, which villagers whisper about but her father refuses to discuss. Opportunity comes when a distant aunt offers to educate her as a lady in London. Exposed to fashionable society and romance-as well as clues about her mother-Lilly is torn when she is summoned back to her ailing father's bedside. Women are forbidden to work as apothecaries, so to save the family legacy, Lilly will have to make it appear as if her father is still making all the diagnoses and decisions. But the suspicious eyes of a scholarly physician and a competing apothecary are upon her. As they vie for village prominence, three men also vie for Lilly's heart.
My review:
Finally got a chance to read this book and it was wonderful, as expected. I enjoyed the fact that there were so many subplots to keep my attention. And I loved that the author had me guessing for a good portion of the book in regards to the young woman's future.
The title of this book fits the story perfectly. It has a bittersweet meaning that only someone who is really "into" the story would understand. I almost felt like I was watching a movie play out on the big screen because the details were so vivid. Some were so vivid, in fact, that they made me shudder. It was a bad idea for me to read that leaching scene right before I went to bed. You can imagine why.
I didn't envy the decisions the heroine needed to make. I also found the peculiarities regarding her brother's behavior intriguing. Since I have clients with similar diagnoses, I thought the author did a great job portraying the particulars of someone with his limited abilities. It was good to see an accurate portrayal of two people with special needs that were not immediately tucked away in asylums as was the trend back in that era. Fans of Regency romances should really enjoy this book.
The Apothecary's Daughter
was published by
Bethany House
and released in January 2009.