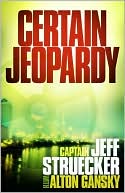 About the book:
Six American men live behind a protective facade, their real work hidden from neighbors and friends. Different in countless ways, they are intimately the same in one: at any moment their lives can be altered with a phone call, and their actions may change the world.They are Special Ops. And one team's mission is about to hit certain jeopardy status when the discovery of an Al Qaeda base in Venezuela becomes secondary to thwarting the transport of a nuclear weapons expert from that training camp to Iran.
Hubby's review:
Certain Jeopardy
is a thrilling look into the heart of special operations in the US military. The plot shows how the men and women in our armed forces, especially in special ops, endanger their lives for their love of freedom and the United States. It also shows how much their families give to up to support them in their commitment to serve the country. It's a very fast-paced novel and keeps you wondering what will happen next. The characters operate as a team, almost like brothers, but tighter. It's because of their drive to survive and do the right thing so that millions of people will be saved from certain jeopardy. Without their intervention people wouldn't be safe and the men bent on destruction would win.
Certain Jeopardy
was published by
Broadman and Holman
and released in May 2009.