To enter the contest to win this book simply post a comment about poetry. Do you like it? Do you hate it? Do you have a favorite poet? I will pick a winner next Sunday, July 19th. Thanks everyone for your creative answers every week!
I'll go first. I do like poetry, but not a lot. If it's well done and emotion-packed then, yeah, I'd love it. I don't find many poems like that. However, I am embarrassed to say that I've never read any poetry by Elizabeth Barret Browning (at least that I'm aware of.) So this book should make me more cultured, yes?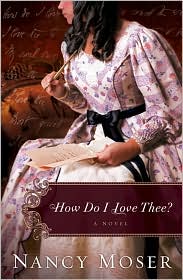 About the book:
The year is 1845. Elizabeth Barrett is a published poet—and a virtual prisoner in her own home. Blind family loyalty ties her to a tyrannical father who forbids any of his children to marry. She has resigned herself to simply existing. That is, until the letter arrives...
"I love your verses with all my heart," writes Robert Browning, an admiring fellow poet. And as friendly correspondence gives way to something more, Elizabeth discovers that Robert's love is not for her words alone. Could it be that God might grant her more than mere existence? And can she risk defying her father in pursuit of true happiness?
My thoughts:
Ooh la la. I will be reading the book this week or next. I will say for certain that if it's anything like
Mozart's Sister
then it will be AMAZING!