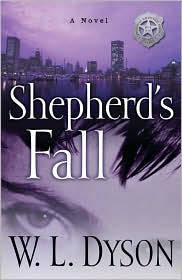 About the book:
Bounty hunter Greg Price is fearless when it comes to chasing down criminals. It's his difficult ex-wife, rebellious teenage daughter, and dysfunctional siblings that keep him awake at night. In charge of the family business, the Prodigal Recovery Agency, he thinks of himself as a shepherd of sorts. When his "flock" is out of his control, Greg's well-ordered universe falls into chaos.
Prodigal Recovery's search for Zeena, a prostitute on the run, leads to a faulty arrest, complicating Greg's business. He is thrown together with Zeena's twin, the beautiful Annie, and the two find themselves on a desperate search. The stakes significantly increase when Greg's daughter is kidnapped. Now, to save someone he loves, Greg must risk everything.but will it be enough?
My review:
Shepherd's Fall
was one of those gripping books that holds on tight and doesn't let you go until the conclusion at the end. The author is skilled when it comes to torturing her characters. She does this just enough to make you crazy and want to keep reading. I know it sounds cliche, but it was hard to put down. Seriously.
I don't care much for supense books, but this one had my attention. I cared about the characters and the situations they found themselves in. The spiritual thread was present but not overpowering or contrived. I liked how the author brought things together in a way that made sense. And it's tough to say much without giving away anything, but things aren't always as they appear. In this case, the author made that very believable.
Most often I figure things out in advance or the twist doesn't make sense to me due to lack of foundation. But
Shepherd's Fall
is a complex and plausable tale that will delight male and female audiences alike. Highly suspenseful, but not highly romantic, there is just enough blood and violence to keep suspense lovers happy and enough angst to keep the story moving along. Great read. I highly recommend it.
Shepherd's Fall was published by Waterbrook/Multnomah and released in April 2009.