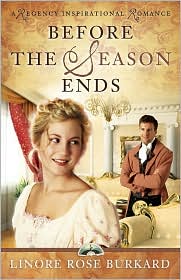 About the book:
In her debut novel of what she calls "spirited romance for the Jane Austen soul," author Linore Rose Burkard tells the intriguing story of Miss Ariana Forsythe, a young woman caught between her love for a man who doesn't share her faith and her resolution to marry only a fellow believer in Christ.
Trouble at home sends the young woman to her aunt's townhome in the fashionable Mayfair district of London. There she finds worse troubles than those that prompted her flight from home. Ariana is soon neck-deep in high society and at odds with Mr. Phillip Mornay, London's current darling rogue. Then a scandal changes Ariana forever. Her heart, her faith, and her future are all at stake in an unexpected adventure that gains even the Prince Regent's attention.
Will Ariana's faith survive this test? And what about her heart? For it's Ariana's heart that most threatens to betray the truths she has always believed in. When she finds herself backed against a wall, betrothed to the wrong young man, how can it ever turn out right?
My review:
I've never read a book written by Jane Austen before. *Gasp* I know, it's criminal. I love regencies, however, so this story worked for me. (I'm not totally uncultured. I have watched Sense and Sensibility and other Austen stories on DVD). But since I've never read Austen I can't say how similar the writing styles are. At first the omniscient POV all the time was hard for me to follow, but then I allowed myself to be pulled into that era and all of it's vanity and the story came alive. I had difficulty putting it down once I got past the initial hump of the writing style. While it wasn't bad, it was just very different from the typical point of view purist books you see nowadays.
What hooked me was the scene in the tree. The same time Phillip Mornay fell in love I was pulled right in. I kept turning the pages as I felt the confusion Ariana experienced in response to Mr. Mornay's affection and how he would continually pull away. I suspect I knew when he cared for Ariana before she realized it herself. This was truly a delightful read. I loved the subtle tension between them and the dialogue. The terms used such as gel, paragon, reticule, ton, etc. all solidly planted me in the setting. While by no means edgy, for a regency period novel it was still yummy enough for me. I loved the way the spiritual theme played out and how the author used Scripture to illustrate her concerns. The spiritual awakening of previously lost characters truly touched my heart. I highly recommend this story for romance lovers who enjoy a strong faith element.
Before the Season Ends
was published by
Harvest House
and released in Dec. 2008.