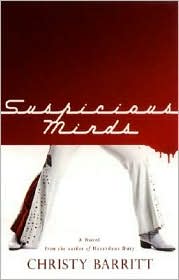 About the book:
Rock and roll may never die, but the King is definitely dead . . . again. To pay off some bills, crime scene cleaner Gabby St. Claire takes a job doing mold remediation, but she finds a surprise in the dilapidated home's crawlspace: Elvis, dead as a doornail and still wearing his blue suede shoes. How could she possibly keep her nose out of a case like this? A sequel to the popular novel
Hazardous Duty
.
My review:
Have you ever read a book that was so funny you wanted to read it out loud to your friends? Have you ever found a book with such original inner dialog and snappy attitude that you think, "Wish I'd thought of that." Ever have a story that is so intricately put together that everything is important and every detail is necessary? No words wasted? Well, if you haven't discovered a treasure like that yet, then I suggest you go to the store and order this book now.
Suspicious Minds
is brilliant, funny, intense, witty, romantic and downright awesome. I totally loved this book even more than
Hazardous Duty
, and that's saying a lot because I thought it was the best! And ironically in the midst of all the other stuff going on in
Suspicious Minds
, there is also a deep spiritual thread that is meaningful, and a kiss or two that would make even the stodgiest reader swoon. Did I mention I loved this story? I don't want to spoil things by giving away important details, so just trust me on this one. It's like a comedy-suspense-mystery and definitely worth buying. Christy Barritt has created a whole new genre.
Suspicious Minds
was published by
Kregel
and released in July 2008.