To enter your name to win a copy of
The Proposal
simply post a comment about how your spouse (assuming you're female) proposed to you. If you don't want to do that then tell me the title of your favorite Lori Wick novel.
To be fair, I'll do both. My hubby caught me by suprise one day in the church parking lot. We were sitting in the truck and he asked me to marry him. As for my favorite Lori Wick novel, I'd have to say
Pretense
.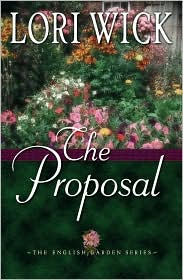 About the book:
A captivating tale of Christ's love at work. When Frank and Lydia Palmer discover Lydia's brother is the guardian of three children, they're horrified because he is well-known for his tyrannical nature. William, relieved to have a male heir without having to succumb to marriage, sets about raising the boys and hires a nanny for the girl. The brothers tolerate their gruffly kind superior, until they discover the cruelty of their sister's caretaker. When the situation erupts, Jennings goes to the Palmers for guidance. While there, he meets Marianne - who turns his beliefs about women and God upside down with her gentle reasoning and Christ-honoring lifestyle.