To enter to win a copy of this book simply post a comment about missing fathers. Do you know anyone who never knew their father or loved them but then something happened and they never saw him again? I will pick a winner next Sunday. Sorry I forgot to post this yesterday.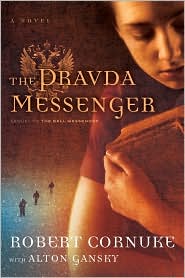 About the book:
Tanya Novak will never forget the night, seven years ago, when she had to flee from the KGB, leaving her wounded father behind. She hasn't seen him since.
Nor does she understand the mystery that swirls around Feodor Kuzmich, the man in the coffin under the Russian monastery where her father was wounded. And what happened to the gold snuff box that the priest took from that coffin and gave to Yuri, Tanya's father?
Attorney Shannon Reed's life was fairly uncomplicated — until she and Carolyn Dawson, the personal secretary of billionaire R. C. Cooper, purchased an old bloodstained Civil War Bible in Phoenix. On Carolyn's way home to England, her plane crashed in Colorado. Now the Bible, in its impact-proof case, is missing...and R.C. insists that Shannon be the one to follow the trail.
That trail will introduce Shannon — and Tanya — to a long list of odd characters, all of whom seem to want something very badly. Which ones can they trust — and which not?
And what is the explanation for the bizarre gift that has set Tanya apart since her birth in Russia's far north?
My thoughts:
I don't have this book but ironically parts of it sound like a book I wrote about ten books ago and decided to pitch because my writing stunk even though the story rocked.