To enter to win a copy of this book simply post a comment. You can either tell me about someone you know who tried to rise about their troubled past or you can simply mention what intrigues you about the book. I will pick a winner next Sunday. Don't forget to leave me a way to contact you if you win! Peace!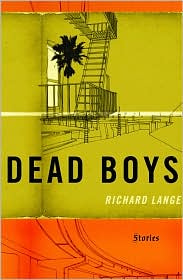 About the book:
These hard-hitting, deeply felt stories trace men-- straight arrows and outlaws, have-it-alls and outcasts-- as they take stock of their lives and missteps and struggle to rise above their troubled pasts. A salesman considers his tenuous relationship with his sister after she has been brutally attacked. A house painter looks forward to moving his family out of their seedy neighborhood as he plans his last bank robbery. A drifter finds a chance at love when he delivers news of a barfly's death to the man's estranged daughter.
These are hard-boiled tales of life on the edge in a city where the sun hurts your eyes and dreams die more often than they come true. Full of heart and heartbreak, Dead Boys is the debut of an astonishingly talented new writer.
My thoughts:
I don't have the book, but it sounds interesting. :)