To enter to win simply post a comment and make sure to leave me a way to contact you if you win. I'll pick a winner Sunday. Best wishes!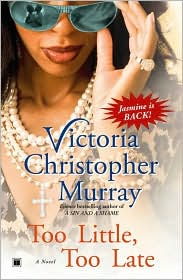 About the Book:
Jasmine Larson Bush returns to her devious ways in this tale of two marriages -- each threatened by lies and betrayal.
She took marriage vows to be honest and true, but Jasmine's still hiding secrets to keep her husband, Minister Hosea Bush, by her side. When Hosea's ex-fiancée, Natasia, suddenly appears in New York, Jasmine knows it's not a coincidence. A former manstealer herself, Jasmine is very aware of Natasia's motives -- even if Hosea is not.
Complicating Jasmine's life is the secret she's kept from her baby's daddy. Luckily for her, Brian Lewis has problems of his own. His wife, Alexis, is convinced he's cheating on her -- but Brian's real betrayal is much worse. Revealing the truth to his wife could lead him back to the biggest mistake of his life...Jasmine.
Two marriages are in desperate jeopardy. Will Jasmine be able to scheme to save her own? Or will she have to choose between protecting her past and compromising her future? Even if Jasmine and Brian find the courage to stop the lies, it may be too little, too late....
My review:
There is an abundance of conflict and action in
Too Little, Too Late
. And as is typical of Ms. Murray's writing style, nothing is predictable and every chapter is eventful and tense. There are never any sagging middles or boring chapters in one of her novels. I love how the author twists things around and weaves powerful lessons into all of her stories. Lessons about love and faithfulness, trust and forgiveness.
Too Little, Too Late
has an ending that will leave you breathless, yet there is also a bittersweet feeling you get by the time you reach the last page. Yes, life is messy, and temptation is everywhere. The issue of addiction is handled extremely well and is accurately portrayed.
In the midst of their struggles these believeable character discover that God is always in their midst no matter how awfully they behave. They realize that His love is unconditional and if they reach out to Him, He will meet them where they are. That is so true-to-life. What a great read. A bit on the sizzly side with some major eyebrow-raising scenes, but I like that kind of romance, and in this regard Ms. Murray never dissapoints.
Too Little, Too Late
was published by
Simon & Schuster
(Touchstone imprint) and was released in June 2008.