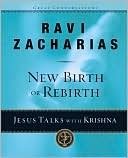 About the book:
Ultimate truth. The destiny of souls. The individual heart. Can Krishna and Jesus agree on anything?
This is what Subramaniam, a real-life Hindu of the twentieth century, wonders as he enters a fictitious conversation between two religious figures who have changed the lives of millions. As Jesus and Krishna respond to each other's view of life and the afterlife, they speak words straight from the texts of Christianity and Hinduism and straight into the soul.
Subramaniam asks Jesus and Krishna hard questions about faith. Meanwhile, a fictional character, Richard, eavesdrops, asking himself the most important question of all:
Does it really matter what I believe?
My review:
Comprehensive and easy to read and understand,
New Birth or Rebirth
covers many of the similarities and differences between Hinduism and Christianity through fictional dialogue. I'd recommend this book to anyone who wants to better understand Hinduism, or those who have friends who are searching for truth, or believe that all religions point to the same God.
New Birth or Rebirth? Jesus talks with Krishna
was published by
Multnomah
and released in June 2008.