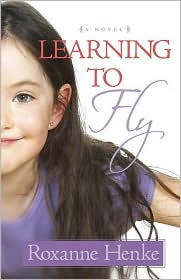 About the book:
Nervous new mom Susan feels like she may never get a handle on "the mothering thing"---so she's grateful when a chance meeting reconnects her with JoJo, an acquaintance with a daughter the same age. Over the years, the family friendships deepen, but as graduation nears, will they be ready to let their girls fly?
My review:
This engrossing novel is better than a parenting book! And if you you see a frustrated, self-conscious mom in the store with a kid having a conniption fit, do her a favor and tell her about this book. Seriously. You may just save her some heartache.
Learning to Fly
is about parenting and the heart of a mother. But it's even more than that. It's about marriage and friendship and peer pressure. It's about the consequences of not speaking up and of letting your child get what they want all the time. It's about the dysfunction of reliving your childhood through your child and the damage it can do. It's about so many things. And the most exciting part of this book is it's every mother. There is a bit of Susan and Jo Jo in all moms, so everyone can relate.
I love reading about dysfunction when the authors have deep insight into the situation and wisdom that shows up in their characterization. Roxanne Henke nails so many things in the process of telling you this story that will grip your heart in many, many ways. In fact, this is the perfect gift for a parent with little ones. Readers can't help but see just how much it hurts your child to give in to them. It's not a pretty sight and only gets worse as they get older. The takeaway value of this book is that it's worth it to be consistent and to listen to your child and not make excuses for their bad behavior. Plus, the characters are so well done it's hard not to love them and understand them by book's end. I highly recommend this book!
Learning to Fly
was published by
Harvest House
and released in February 2008.