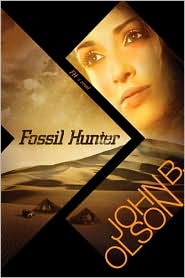 About the book:
In the desolate Iraqi desert, a lone shepherd stumbles across a whale fossil. Initial analysis indicates that it could be a new species-a discovery that could shed light on the evolution debate. Paleontologist Dr. Katie James is asked to lead an expedition to recover the rest of the fossil before her archrival, Nick Murad, can find it first.
My review:
Fossil Hunter
is one of those books that not only entertains (and believe me, it does!) but it also educates. This is not a mindless story laden with drivel and rhetoric, but is an intelligent work of art, and it's full of depth and intrigue. I was impressed with how well the author developed the setting. I felt like I was on the run and hiding in the hot desert right along with Nick and Katie. And all that dust! Oy!
I'd heard the author was an expert at writing from a woman's point of view. That is
definitely
the case. The main character, Katie, was very believable and strong, yet enticingly vulnerable at the same time. The tension between Katie and Nick was exhilarating, too. I loved that. And unlike many high intensity novels these days, this one had a spiritual element that was subtle, yet genuine and clear.
In short,
Fossil Hunter
is a must-read. If you love action and adventure with subtle romantic elements you will love this story.
Fossil Hunter
was published by
Tyndale
and released in May 2008.