To get your name in the drawing simply post a comment and I'll enter your name. Leave me a way to contact you if you win. Thanks!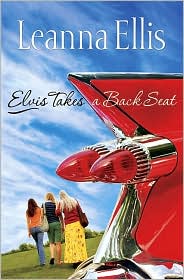 About the book:Memphis or Bust.
Determined to fulfill her husband's last request, Claudia McIntosh is hauling a three-foot bust of Elvis Presley in the back seat of a vintage Cadillac from Dallas to Memphis, hoping to locate the kitschy sculpture's rightful owner. Along for the ride are her eccentric aunt who knew the King of Rock 'n' Roll, and a tempermental teen with a suspicious mind of her own. When the road trip hits the Heartbreak Hotel, these three women uncover pieces of their past along with the bust's mysterious history — discoveries that will leave them all shook up and change their lives forever.
My thoughts:
I've read half the book and I'm enjoying it. I will post a review as soon as I'm done. This story is different with it's first person POV and sad storyline, but I like it. And yeah, there is a bit of "edge" in there, too. Not a lot, but enough to keep my interest. :)