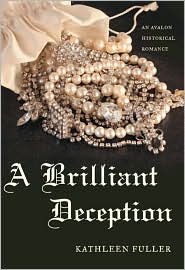 About the book:
Lily Breckenridge, daughter of a Duke, unwittingly finds herself suspect in a rash of jewelry thefts. In order to clear her name she teams up with her best friend Emily's brother, the handsome Colin Dymoke, to find the real thief. To make matters worse, Lily's scheming former fiance keeps turning up and causing trouble while making Lily question her own self-worth.
Thankfully, she has Colin by her side to help and protect her. As they work to solve the mystery, Lily fights her growing feelings for Colin, who is considered one of England's most eligible bachelors. Having been hurt in the past, she's reluctant to trust her heart to someone again.
Before long, the two of them are caught up in a web of intrigue and deception. They need to clear Lily's name before she and her family are ruined and all hope for romance with Colin is lost.
My review:
I love how this author always develops a spark of attraction between unlikely characters. And as usual, this story did not disappoint. Set in Regency England,
A
Brilliant Deception
is as full of sparkle as the jewels on the cover. The balls, the elite, the rules of society, and all of the trappings of the culture play into this story to make for a great setting. The conversations between characters are incredibly well-done and so typical of the culture. Especially the ones between Colin and Lily. And yet, the author does such a wonderful job on each character's inner voice, that you feel like you know them and understand their hearts. The romane sizzles (within the limits of the culture, of course) and I loved every minute of it. Every Lily in this world wants--no, needs a Colin. This romance will delight readers who love this era and enjoy a good love story. I hope there is another book in this series. I would love to see Emily and Michael get together. That, too, would be an awesome tale!
A Brilliant Deception
is an Avalon Romance and was released in February 2008.