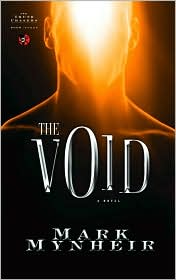 About The Void:
The Truth Chasers Book Three
Someone's trying to play God…
and he's turning Palm Bay into hell.
Florida Department of Law Enforcement Agent Robbie Sanchez devotes her life to crime prevention, and it shows: She has no personal life and doesn't know the meaning of a day off. After all, someone has to be around to clean up the mess crime leaves behind.
So when Officer Brad Worthington is brutally murdered, Agent Sanchez is called to the scene along with Brad's best friend, Detective Eric Casey. The two turn to Lifetex, the genetics lab near the scene, hoping their elaborate security system might have captured the crime outside.
But what's going on inside the lab is far worse: a renegade scientist is cloning humans! As Robbie and Eric pursue clues–and a growing attraction–they are caught in a deadly battle as the clones begin to act on their own volition…but this battle threatens to claim more than human life; the clones are vying for human souls.
My hubby's review:
One of the best books combining spiritual warfare and human nature out there, The Void addresses many profound truths. Like how sometimes even things done with good intensions can be warped until they get so out of control that only God can fix them. The insight the author has into the mind of the deceiver is incredible, and the truths revealed in this book will open to your eyes. You'll see the extent of the enemy's hatred for God's love of mankind, and especially for those who are redeemed. Mynheir has amazing skill when it comes to evoking emotion in the reader. You'll really care about the officers in the story and appreciate all that they do. Mynheir also shows how darkness will go to great lengths to strategize ways to douse the light…so much so; it will give you the chills. Seriously, this book will change the way you view things. An awesome read!
The Void
was published by
Multnomah
and released in August 2007.