Seventy Times Seven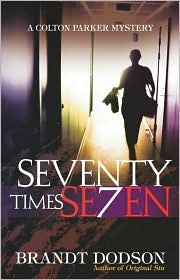 Seventy Times Seven
is very suspenseful and contains high-paced action as Colton searches for a man's missing beloved wife. This engaging tale dealt with forgiveness and the painful reality that you can't go back and change the past, but you can choose to forgive today. It also highlights the importance of having a good friend to help you to the hard times. By books end he was desperately wanting to find out what happened next and was delighted to see that book three was on the shelf.



The Root of All Evil



A high-paced action story involving biker gangs and drug dealers,
The Root of All Evil
is about a very wealthy man who is searching for his missing son, who he longs to have a relationship with. Colton is hired by this man to find his son because he wants to know him before he dies. What is so compelling about this story is that the main secondary character who is a biker is not what he seems at first. Reminiscent of the movie Mask, starring Cher, this story is sure to touch even the toughest heart and leaves you longing for the next book in the series.


The Lost Sheep
The Lost Sheep
is a beautiful illustration of a father's heart and the love a father has for his child. The most emotionally compelling of the four stories (though they all evoked emotion) this novel will have you wishing Colton Parker was a real person because you feel like he's your friend. In this story, Colton delves into the depravity found in the "Sin City" when he investigates prostitution rings, drug dealers and warped cults. With all of the twists and turns in The Lost Sheep, you'll want to set aside time to read this book strait through as it will have you on the edge of your seat. By books end you are satisfied with the results of Colton's investigative work. You'll not only weep with Colton, but you'll also want to hang out with him on future cases