To get your name in the drawing simply enter a comment. Don't forget to leave me a way to contact you if you win!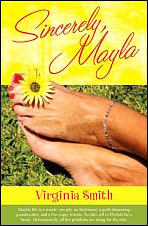 About the book:
Just as life is beginning to come together for spunky, purple-haired Mayla Strong, she loses her job and her boyfriend. When she escapes to sunny Florida, her problems only tag along. In this heartwarming sequel to Just As I Am, Mayla learns how to balance friends, family, and faith while living in a messed-up world.

My thoughts:
I've read the first three chapters and as usual the author has pulled me in. Virginia Smith does a better job at that than most authors, btw. Also, this book is in first person POV but it is so well done that it's not at all obvious. I love Mayla. She's one of my favorite characters. This book is a keeper, folks!