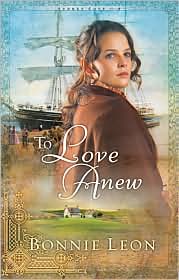 From the Publisher:
Hannah Talbot has no one. Forced to leave the only home she's ever known, she works for a cruel employer who brutally takes the one thing she has left- her dignity. When she is banished from London, she is certain God has turned his back on her.
John Bradshaw was a successful businessman whose untamed spirit sometimes wanted more. When he is betrayed by those closest to him, he loses everything- his wife, his business, even his freedom.
John's and Hannah's paths are about to cross. Aboard a ghastly, nineteenth-century prison ship from London to Australia, John and Hannah must keep hope alive and trust God's unconditional love.
My review:
To Love Anew
is an amazing journey you won't want to miss. There are some pretty edgy scenes in this book, which of course worked well for me. However, someone else may find a few things a bit hard to read because they were SO realistically done. I felt like I was Hannah suffering through the majority of the book. The stench, the pain, the heartache were all vividly portrayed. I doubt I would have survived what Hannah went through and may have given up hope long before. But Hannah was a survivor despite her low opinion of herself and the guilt that nearly consumed her.
I loved how the author took people that Hannah would not normally associate with, but given her circumstances, she is then forced to look at her own heart and prejudices. The unspeakable evils done to the prisoners amazed me in that anyone survived at all. The story reminded me of the movie Amistad, but the prisoners on the ship were white. The forced labor for the prisoners and lack of freedom was just like slavery.
John was the ultimate hero and just about made me swoon whenever he spoke to Hannah. He had plenty of reasons to be bitter, but still managed to keep his honor despite his harsh living situation. His devotion to Hannah was also commendable. I loved the tension between the two of them. Their connection felt realistic and deep. And the emotional tension between them is what excellent romance writing is all about. I loved their relationship and rooted for them to the end--as John never gave up hope.
The best part of this book (besides the delectable romance) was probably the spiritual portion. Hannah had every reason to believe God had abandoned her. She responded like any human would in a similar situation. Of course God never left her, but the journey she took toward that realization was awesome. I loved this story!
To Love Anew
was published by
Revell
and released in August 2007.