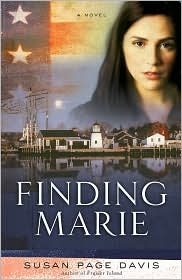 About the book:
Author Susan Page Davis takes readers on an adventure across the United States in this exciting contemporary suspense novel.
Marie Belanger, a naval lieutenant's wife, unexpectedly finds a computer flash drive in her carry—on luggage at the airport. Moments later the woman she had been sitting with on the plane from Tokyo is murdered. Suddenly her journey from San Francisco to her home in Maine becomes a nightmare as Marie is forced to run for her life. Her husband, Lt. Pierre Belanger, contacts his best friend, George Hudson, and together they set out on a search for Marie that spans the country. As hard as they try, they seem to stay one step behind their enemies, who are just one step behind Marie.
Readers will find Finding Marie to be an engrossing novel of faith, honor, and courage set against a background of deceit and betrayal.
My review:
Think
The Bourne Identity
meets
Blink
by Ted Dekker and you'll get the same kind of riveting suspense. But in
Finding Marie
the pursuers are not the USA, nor Arabs from the Middle East, but communists from China. This tale of international intrigue had me on the edge of my seat. Marie's pursuers never gave her a rest. She had to outrun them and in the process had many close calls.
At one point more criminals join the chase and she has people coming at her from all sides. The violence picks up and Marie is terrified, but crafty as she is, she manages to evade them. I enjoyed this story and love the author's pacing and writing style. There is even an engaging romantic subplot among secondary characters that keeps the story moving along.
Much like in
Frasier Island
, the previous novel by the same author,
Finding Marie
is non-stop action. If you love heart pounding suspense, you'll want to read this book.
Finding Marie
was published by
Harvest House
and released Sept. 1, 2007.