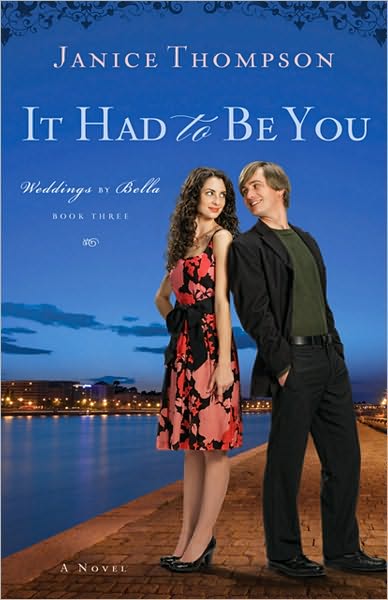 About the book
:
Bella couldn't be happier that her long-feuding Aunt Rosa and Uncle Lazarro have finally admitted their love for one another and are getting married. Their forties-style wedding is sure to be a night to remember. But when the Rossi house begins to fill up with family from Italy--and an old mobster from New Jersey--life starts to get complicated. Will Lazarro's friend from the past drive the happy couple apart once more? And will Bella ever have time to think of her own rapidly-approaching wedding amidst the chaos? Full of laugh-out-loud humor, plenty of Italian passion, and a bit of Texas gumption, It Had to Be You is the satisfying conclusion to an entertaining series.
My Review:
It Had to Be You
was a nice ending to a fantastic series. It wasn't as packed with comical tragedy and zany situations as the first two books, so the pacing was a bit slower. It had some great "old people" humor and Bella was her usual lovable self. DJ was pretty amazing, too. This was not my favorite in the series, though. I'd have to say my fav was the second book, probably because this one dealt with wrapping up details more and winding down the series, so my emotions weren't as engaged in the story. I usually find the last book in the series to be a nice conclusion but not as compelling as earlier books. Not sure why that is. At any rate, the ending was sweet and contained the typical innocent humor and Christian tone from earlier books embedded in the story. This series is a great example of what tender, inspirational fiction is supposed to be. Not too much yada yada and delivering plenty of smiles with a chuckle tossed in here and there. I'm bummed to see the series end, but at the same time I'm satisfied with it. The message about waiting and saving yourself for your marriage was subtle, but still there and quite powerful. I loved this series.
It Had to be You
was published by
Revell
and released in May 2010.
***Thanks Revell for providing me with a review copy of this book!