To be entered into the contest for a chance to win this book simply post a content answering the following question. I'll select a winner next Sunday using the Randomizer program. Best wishes to you and have a great week!
Here is the question:
Is there any Native American blood in you... if yes, what tribe?

My answer:
My grandmother was born on the Osage reservation in 1898 and at the time both Cherokee and Osage people lives in Hominy, Oklahoma where she was born. I've looked at the Dawes roll that the Cherokee tribe uses and there a ton of Peeks on the roll, which was my great-grandma's last name. So that's my story. You?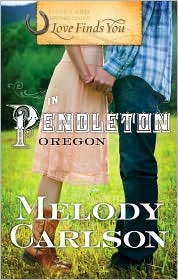 About the book
:
Sunshine Westcott's past is buried on Oregon's Cayuse reservation, where she's never stepped foot---until her boss, Leanne Lowenstein, insists on taking her to the annual rock-and-rodeo Pendleton roundup. Does the town hold the answers to Sunshine's family secrets? And what will happen when cowboy-to-the-core Max Lowenstein falls for Sunshine, the Native American princess?
My thoughts:
I was supposed to get this book to review but it hasn't arrived yet. Bottom line is some of Melody's books I enjoy and others....not so much. This does sound great, though.