To enter your name for a chance to win simply post a comment about someone in your classroom growing up who had the same name as you and if it was an issue. If so, how did you handle it? I'll select a winner with the Randomizer program next Sunday.
For me, there weren't that many Michelle's that I can recall until I was in high school and by then it was no biggie as we changed classes so we weren't in the same class for long. I do know a girl named Jessica whose situation was that there were so many Jessica's in her class she started going by the nickname OJ (for other Jessica). Cute, eh?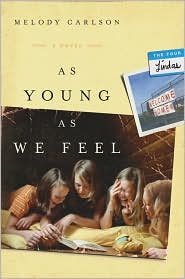 About the book:
Once upon a time in the little town on the Oregon coast, there were four Lindas—all in the same first-grade classroom. So they decided to go by their middle names. And form a club. And be friends forever. But that was 47 years and four lives ago. Now a class reunion has brought them all—the New York lawyer, the empty nester, the frustrated artist, and the aging starlet—together again in their old hometown, at a crossroads in their lives. They're about to explore the invigorating reality that even the most eventful life has second acts…and there's no statute of limitations on friendship.
My thoughts:
I have this book on my TBR pile but haven't had a chance to crack it open yet. The premise sounds cute, though.