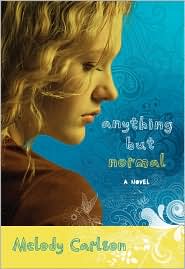 About the book:
Sophie is starting a new school year. Shopping for it with her best friend should be fun, but nothing seems to fit, which is a major issue to a high school girl. But her biggest problem is the secret she's keeping. And she's about to find out that she won't be able to keep things under wraps for much longer. This page-turning novel explores the tangled web of choices, secrets, and love that all teen girls navigate.
From the Back Cover:
She thought she'd left the summer behind . . . This year should be the best of Sophie Ramsay's life. She's friends with all the right people, she's a shoo-in for editor of the school newspaper, and she's managed to turn the head of one of the hottest guys in school. But something's not quite right. Sophie has a secret--one she won't be able to keep under wraps for much longer.
My Review:
This story tackles a tough subject.
Anything But Normal
is an excellent illustration of how one mistake can shred someone's future plans, or at least alter them in a major way. I really enjoyed this story. As a social worker I've come across similar situations and this story reflects scenarios that some of the teens I have worked with have experienced. Young people have a lapse in judgment one time and their world is jacked up for years to come. It's true with many young women that once they've fallen they don't see the point of trying to stay pure anymore. They feel ruined for life and nothing fixes that. Confessing brings forgiveness but the consequences remain. And often it wasn't something the girl wanted to begin with. It was the guy's idea.
I thought the author did a great job with the guilt she experienced, with her wanting to hide the evidence, her fear of people finding out, etc. And best of all, the author did a great job showing the issues surrounding people who are not showing Christ's love and forgiveness. That was well done. People don't realize how self-righteous they sound when they spout off about things they really don't understand. This story is about compassion and the need for more of it. It's also about not shooting the wounded when they are down. I really understood Sophie and her many issues. I adored Wes. He was such a great guy. And Dylan was pretty much what I expected. Unfortunately his response is all too common in scenarios that I've seen. I loved how the Pastor got involved in the end and how Sophie went to the church for help. That was a great example of how things should work when people are hurting and need support. While the story didn't make me cry like I expected, it definitely touched my heart and I'm sure it will do the same for many young women who need to hear the message.

Anything But Normal
was published by
Revell
and released in January 2010.