To enter your name for a chance to win a copy of this book simply post a comment about a time when you did something for your family's approval that you probably shouldn't have done. If you can't think of anything then post a comment about inheritance. Do you think if someone is a blood relative but had nothing to do with the family (ie: they were adopted into another family and didn't know they were heirs) do you think they should get the inheritance due them because of their blood relationship? I will draw a winner's name by random selection next Sunday!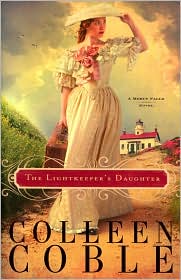 About the book:
In her quest to discover the truth about her family, Addie finds danger-and quite possibly the love of her life.
It's 1907 and Addie Sullivan has found work at a lavish estate in Mercy Falls, California. She hopes to discover the truth of her heritage. But when she arrives at Eaton Hall, nothing is as it seems. Not the idyllic family she dreamt of, not the child she was hired to help, not even the aloof man she's immediately attracted to. The danger she'd hoped to escape follows her, however, and she soon finds she must turn for help to a man who views her with suspicion.
If Addie realizes her dream, she'll deprive the man she loves of HIS dream--his right to the wealth and power of the Eaton name. She must come to realize that God is sufficient even in the hard times, and no familial approval is worth her integrity.
My Review:



The Lightkeeper's Daughte

r

was an incredible story and I loved it. Full of romance and mystery, it kept me reading and I couldn't put it down. Seriously. John was the dreamiest hero ever! I loved him and how he treated Addie. She was a great heroine, too. She loved the Lord and it was evident in her life. The spiritual thread in this book was excellently inserted and made the book just that much better. It didn't feel forced, but very natural. I loved how Addie's respect for the hero made him want to be a better man. Shouldn't our lives and love for the Lord attract people? This story shows that very well. It makes me want to show my husband even more respect and that is what good fiction should do, IMHO. It should inspire us to be better at loving others.

The coolest part of this story was that you just never quite knew who the bad guy was. I changed my mind several times (and my theories) and honestly, it surprised me at the end to find out who the culprit was, yet it also made total sense. The foundation was very well laid and prepared me to accept that twist. This book was so full of surprises, but they were all believable and worked well for the story. This was the perfect historical mystery with enough warmth to make romance lovers like me sigh with pleasure. I truly enjoyed this story and it's making my top fiction for 2010 list. While I've read other books written by this author, this is definitely my favorite book by Colleen Coble. I think she has a real knack for historical fiction with mystery and romantic elements. I plan to read the next book in this series and can't wait for it's release.
The Lightkeeper's Daughter

was published by

Thomas Nelson

and released in Jan. 2010.