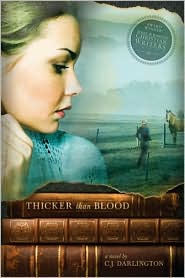 About the Author:
C. J. began writing the story that would become
Thicker than Blood
(her first novel) when she was a fifteen-year-old homeschool student. She has been in the antiquarian bookselling business for over a decade, scouting for stores similar to the one described in the novel
before cofounding her own online bookstore.
Thicker than Blood
was the winner of the 2008
Christian Writers Guild
Operation First Novel.
C. J. co-founded the Christian entertainment Web site
TitleTrakk.com
with her sister, Tracy, and has been actively promoting Christian fiction through book reviews and author interviews. She makes her home in Pennsylvania with her family and their menagerie of dogs and cats. Visit her website
http://www.cjdarlington.com/
for more info.
QUICK LINKS:
About the book:
Christy Williams finally has her life on track. Shes putting her past behind her and working hard to build a career as an antiquarian book buyer. But things begin to unravel when a stolen Hemingway first edition is found in her possession, framing her for a crime she didn't commit. With no one to turn to, she yearns for her estranged younger sister, May, whom she abandoned after their parents untimely deaths. Soon, Christy's fleeing from her shattered dreams, her ex-boyfriend, and God. Could Mays Triple Cross Ranch be the safe haven shes searching for? Will the sisters realize that each possesses what the other desperately needs before its too late? A stunning debut from the latest Christian Writers Guild winner.
My review:
Thicker than Blood
was a great debut. The voice of the author is smooth-flowing and believable. There was nothing clunky or hard to understand. I loved the theme about collecting and selling old books and the story surrounding the sisters. I also loved how realistically domestic violence and alcoholism is portrayed. That was very well done.
There are some great themes in this book and it has a solid message. I had difficulty putting it down because everything progressed in the story at a good pace. Also, when it comes to torturing her characters, CJ is a master. I felt so bad for these ladies. I enjoyed watching how God worked through their difficult circumstances to make something beautiful happen that would change their lives in the end. I really enjoyed this story.

Here is the book video trailer about the story: