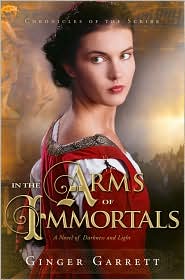 The Black Death sweeps through a Sicilian village in Book Two of Ginger Garrett's unforgettable Chronicles of the Scribe series

It starts when a strange ship docks in the village harbor. That night an old man falls ill…then the baker's wife…then a street urchin. By morning half the townspeople are dead and more are dying—horribly. And no one in town has a clue how to stop it. Not the local priest. Not the rich baron or his powerful knight. And not the three women at the heart of this book: the baron's proud daughter, Panthea, the outcast healer Gio, and Mariskka, an unwilling visitor from another time. This fast-moving, richly imagined tale is a sure winner for lovers of historical fiction.
My review:
While I found some aspects of this story interesting, it was also quite confusing. The writing was good, but I often felt a bit disoriented while jumping from each person's point of view. While I got that it was medieval Sicily, sometimes it felt like the characters were not connected to reality. I'm not sure how to explain it. They had a lot of internal thoughts that were deep, but it was hard to get to know each character. They all seemed confused. They said things that seemed to contradict who I thought they were based on previous scenes. Like I said, a bit confusing.
But there was a lot of edgy content like innuendos regarding perversion and such, though nothing actually happened. Also, the descriptions of the plague were quite nasty, so if you have a weak stomach you might find that a bit much. There was a lot of tragedy and death as well. At the same time there was a good spiritual message, but it did seem like some loose ends weren't wrapped up, which might leave some people frustrated. I did like one part of the ending (regarding a few survivors) and thought that was a beautiful way to resolve their prior heartache.
I don't really like the scribe concept, though, and I didn't like it in the previous book either (In the Shadow of Lions). I think it would've been better if the author had stuck with the actual historical setting for the story and stayed there.
I enjoyed
Dark Hour
and
In the Shadow of Lions
. This story...not so much. But it was never boring. I guarantee that, which is the reason I finished it. I kept wanting to figure out what the point was. People who like stories set in reading medieval settings or time travel novels might enjoy this despite it being a bit disjointed. I plan to read the next book in this series when it comes out. Hopefully it will make more sense to me than this story did.
In the Arms of Immortals
was published by
David C. Cook
and released in Sept. 2009.