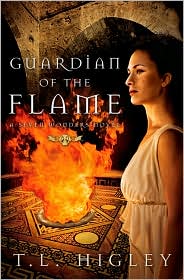 About the book
:
Guardian of the Flam
e is book three in the Seven Wonders series of novels transporting readers back to the Ancient World. Characters struggle to find meaning in a pagan society and are confronted by the one true God and His message of redemption. The year is 48 BC. Sophia, a woman hurt by past loss, guards the famous lighthouse of Alexandria, Egypt, in order to hide herself away from a world she deems cruel and unloving. But there is no escape. Political turmoil swells as Roman general Julius Caesar and his legion storm the city, and Cleopatra, Greek queen of Egypt , fights to retain her country against both Caesar and bloodthirsty rivals within her own household. Sophia is caught in the middle between a loyalty to Cleopatra and her maddening interest in Bellus, the Roman soldier whom Caesar has instructed to overtake the lighthouse.
My review:
I haven't read a story written by this author before and I really enjoyed it. Last week I read
Cleopatra's Daughter
by Michelle Moran, so it was cool to hang out in the ancient world a bit longer. In
Guardian of the Flame
, Cleopatra is involved with Julius Caesar and is trying to save her country while holding on to power at the same time. Sophia, the main character in this book, is forced to trust a Roman Centurion and the tension between them is delightfully charged with both animosity and attraction. Usually books that I've read where the man and woman hold anger toward each other seems forced at best. However, this set up seemed more realistic to me as did the subtle shift in affection between them. I loved the romantic element in this story. It was delicious. The emotional impact was intense as well, like the situation where someone unexpected from her past is revealed. Telling you who that surprise person is would be a spoiler, so I'm keeping that a secret. The setting was rich with history and I culture. The situations the characters found themselves in seemed impossible to escape. I love stories that keep me holding my breath and longing for the characters to find love and peace. This one was definitely that, plus it had just enough tension to keep me reading while making my heart pound with anticipation. That's always a great combination.
Guardian of the Flame
was published by
B&H
and was released in October 2009.