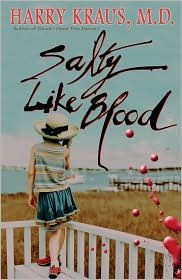 About the book:
Dr. David Conner's idyllic life is unraveling! First his 7-year-old daughter is abducted, then his already-troubled marriage gets worse and his medical career disintegrates, forcing him to take a job at a correctional facility. When he meets a particular prisoner, David is faced with a decision---can he forgive his daughter's kidnapper? David's all-consuming quest to find her — dead or alive — threatens to destroy everything he has left: his medical practice, his marriage, his integrity, and even his soul.
My review:
Salty like blood is not your typical suspense novel. It's a story written with deep insight into the human soul and is one of the most emotionally moving suspense stories I've ever read. There is such a deep point of view and gut-wrenching honesty throughout the pages that it's totally engrossing.
While I identified most with the main character, the husband, I found it easy to slip into other characters' points of view when needed. I appreciate that ease of transition in a novel. I also appreciated the painful memories that slowly came back and how well the author brought them in and out of the novel. I was so immersed in everything as I read along that I winced and held my breath along with the characters. That's great writing.
I also loved how complex the plot was and how many twists and turns occurred that the unexpected kept me turning the pages late into the evening. This book is very hard to put down. It wasn't dark, though, despite the plot and the situations in the novel. I didn't feel depressed, just intrigued. And the thing with the Lupron drug totally cracked me up even though it was so wrong.
I loved how real the author made these characters and how he kept me at the edge of my seat. The author had me sweating. Will she do it? Oh my goodness. He didn't just do that...what are they going to do next? How will they get out of this? And the mini-twists and the end made me smile because it's so like real life.
The spiritual transition was not huge, but very real and very well-done. If you want to read a suspense that is not just a bunch of chasing scenes with little depth, then you will love this book. If you don't mind a hero who isn't afraid to cry when something truly hurts, you'll really enjoy this story. I loved it.
Salty Like Blood
was published by
Howard Books
and release in March 2009.