To enter for a chance to win a copy of this book how about you share a short story about something different that you experienced one year that made that Christmas special. For me I'd have to say every year is special, but one year my boys shared it with a kid their age who had nowhere to go because his dad was in the hospital and they were great about sharing their family experience with him.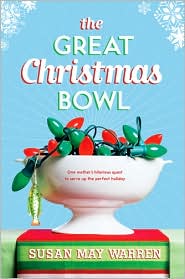 About the book:
Marianne Wallace is focused on two things this holiday season: planning the greatest family Christmas ever and cheering on her youngest son's team in their bid for the state championship. Disaster strikes when the team loses their mascot, the Trout. Is it going too far to ask her to don the costume? So what if her husband has also volunteered her to organize the church Christmas tea. When football playoffs start ramping up, the Christmas tea starts falling apart. Then, one by one her children tell her they can't come home for Christmas. As life starts to unravel, will Marianne remember the true meaning of the holidays?
My review:
Normally I skip over holiday-themed books. They just don't do much for me. But Susan May Warren is an author that typically entertains as well as encourages me. I knew that any story she'd write about the holidays would be funny and realistic. So I tried this story and I wasn't disappointed. It wasn't sappy or goofy. Rather, it was hilariously cute and a bit sentimental, but in a good way. I loved the trout theme and the motherly sentiment and reflection. I could totally see Susan's personality in this story, and I loved how it was written in the witty and charming style of her Josie series. One thing I particularly enjoyed was how the mother realized that God had somehow matured her grown children by story's end. She instilled in them the value of giving and the Lord did the work in their hearts. My two sons are almost finished with high school and they are a lot like Kevin. Her relationship with her son made me smile because it looks so similar to mine.
The Great Christmas Bowl
was published by
Tyndale
and released in Sept 2009.