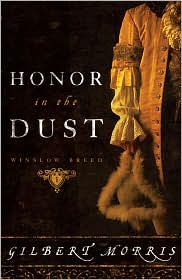 About the book:In the moral confusion of the court of King Henry VIII, young Stuart Winslow has many choices to make — and lives depend on what he will choose.
Born in poverty when his father was forced to choose between the woman he loved and the wealth of his aristocratic family, the determined Stuart Winslow will go to any lengths to improve his social position. When his skills in weapons design and falconry secure a place for him in the court of King Henry VIII, he quickly learns that the court is really a wicked cauldron of vices, power plays, and temptations — some of them very much to his liking.
When William Tyndale, an acquaintance of Stuart's, makes it known that his ambition is to translate the Bible into the language of the common man, the king opposes Tyndale's efforts and sentences him to death. If Stuart opposes the king in this, he will share the same fate. Is he willing to risk death at the stake for the sake of Christ? And how will he choose between the innocent Heather, who has long loved him, and the courtwise Nell?
In
Honor in the Dust
, bestselling author Gilbert Morris beautifully captures the tone of the Tudor period, chronicling the period's excesses with skill and prudence. But like Morris's other novels, this book also contrasts those excesses with the godly behavior of characters such as William Tyndale. In this captivating historical drama, Stuart Winslow is caught between two worlds: one that promises material and worldly success and one that promises salvation. Is his faith strong enough to withstand such a challenge?
My review:

Honor in the Dust
blew me away. I was totally enthralled by the book and didn't want to put it down. I don't think I've ever read a book by Gilbert Morris before, though my husband has and he seemed to enjoy the stories. Now I can see why.
This novel truly impressed me. For people who love reading about King Henry VIII and his many problems having a son, his issues with the church, and his numerous affairs, this will definitely fit that taste. However, the book is more about God using William Tyndale to translate the Bible into English so the common people could read God's word. It follows the infamous Winslow clan that Gilbert is known for creating for his many House of Winslow books.
I love stories that delve so much into the culture that you feel like you are there. Morris does this well with just enough detail to make the setting come alive, but without grossing you out at the same time. He also lets his characters mess things up and suffer the consequences. He doesn't gloss over their sin and the shame that comes with it.
Morris also does a fantastic job of putting his characters into seemingly impossible situations and having God and/or His people come through for them, but not every single time. Life isn't like that and Morris doesn't portray it that way. However, when good triumphs over evil and when God changes the hearts of several characters, as a reader I couldn't help cheering for them. I thoroughly enjoyed this story.

Honor in the Dust
was published by
Howard Books
and released in August 2009.