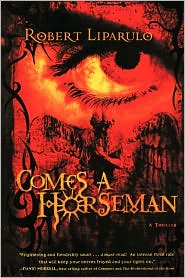 About the book:
The ancients saw Death as a blazing figure on horseback, swift and merciless. Those facing the black chasm often mistook their pounding hearts for the beating of hooves.
Now, two FBI agents pursuing a killer from a centuries-old cult realize they have become his prey.
Hubby's review:
The opening is scene is gruesome, but it pulls you deeply into the realm of spiritual warfare. It shows how some people will do anything for power or religion…even sell their souls. The story is compelling, fast-paced and will really make you think. People who scare easily will not want to read this book at night or before going to sleep. It's that intense.
Comes a Horseman
was published by
Thomas Nelson
and released in August 2006.