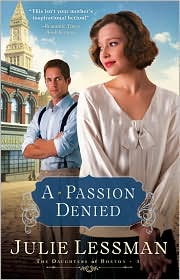 About the book:
Has she fallen in love with a man who cannot love her back?
Elizabeth O'Connor has been like the little sister John Brady always wanted, sharing his love of literature and his thirst for God. But in the throes of the reckless Roaring Twenties, Lizzie has grown up. Suddenly she wants more from the man who has been her friend since she was a child. When this shy little bookworm blossoms into a beautiful young woman bent on loving John, she discovers that his past won't let him return that love. But Lizzie refuses to give up--until his shocking secrets push her away.
Can true love survive the betrayal and deceitful of a painful past . . . or will it be shattered like the fairy-tale dreams of a girl in love?
Brimming with romance, longing, and redemption,
A Passion Denied
, will quicken your pulse and gladden your heart with a riveting story of the true power of love.
My review:
A Passion Denied
is the perfect title for this third book in the
Daughters of Boston
series. One thing this novel doesn't do is deny the reader an unforgettable, passionate experience. There is not one boring page in this entire book, which is over 470 pages long. Why is it so hard to put down? Because when it comes to torturing her characters emotionally and physically, Julie Lessman is a master wordsmith. She can mix up your feelings as much as she does with the interpersonal relationships in her stories. Seriously.
Half the time when I thought I knew what was best, everything changed. The issues with past shame and guilt were very believably instigated as were the conflicts regarding alcohol, infidelity and betrayal. This ongoing conflict made for great romantic tension. You might even find yourself yelling at the people in the book. "No! Listen! Wait! Stop!" It just gets better and better with each chapter. Why? Because those stubborn Irish folk tend to ignore the reader and do their own thing, leaving you in a state of panic half the time. It's enough to make even the coolest cucumber crazy, but I loved it.
I loved how the focus regularly shifted between couples. So with each installment of the series your insight into characters' relationships deepens. You become a part of the O'Connor family. And when they hurt, you hurt. When they fall in love, you feel it, too. And this story is chock full of yummy kisses, which will delight any serious romance lover.
A Passion Denied
is, ironically, brimming with passion. I always know to expect that with Julie's books. Sparks and sizzle and breathtaking drama with intense spiritual situations and impressive character growth. Every one of the titles in this series is a keeper, but I'd have to say this is my favorite of the three books.
A Passion Denied
was published by
Revell/Baker
and released in May 2009.