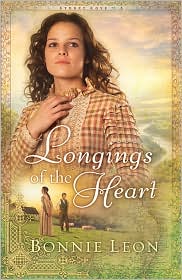 About the book:
It's the early 1800s and the wondrous land of Australia is full of possibilities as settlers stake their claims. Hannah and John are settling some land in New South Wales and hoping to start a family. But their bright hopes for the future are clouded with trouble. As they try unsuccessfully to have a baby, Hannah suffers from guilt over her past. Now this haunts her and her relationship with John--she's never told her husband about this chapter of her life. Full of the kind of emotional longings romance readers crave, Longings of the Heart is the heart-rending second book in the Sydney Cove series. Established and new Leon fans alike will finish this story wanting more. (no kidding!)
My review:
The first book, To Love Anew, made my favorite books list the year it released. This continuation of the Sydney Cove Series is amazing, too. Issues in this book, while presented in a historical setting, are things that people deal with today and apply to contemporary families. Things such as infertility, guilt, misplaced anger, jealousy, fear, and issues related to trust. The author applies just enough pressure and angst into the lives of her characters to keep you reading until you close the book. Her emotional scenes are moving and her conflict is realistic. I loved the marital tension, especially the romantic parts in the beginning. John is a dreamy husband, yet he is all man. I did get mad at him a few times, but c'est la vie.

The setting was also well done. I sweated right along with the characters and itched when they were bit by those stinking bugs, too. Overall I adored this story, and in particular I enjoyed how the story ended. I almost felt like giving a standing ovation to those brave souls. That scene was soooo well done. Then I got a sneak peek at the content in the third book and the conflict presented and I was like....WHAT!!! Now I have to read it and find out how John deals with the mess he finds himself in. Just when you think all is well down under...sigh. If only these characters didn't seem so real to me, then maybe it wouldn't BUG me so much that they find themselves in another seemingly impossible situation that only God can help them out of!
Longings of the Heart was published by Revell and released in October of 2008.