To enter the contest for a chance to win a copy of this book simply post a comment telling me about your interest in politics and why this book intrigues you. Don't forget to leave me a way to contact you if you win.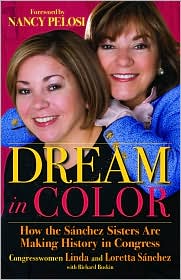 About the book:
By sharing moments from their childhood in Southern California, Linda and Loretta will pass on the values and traditions they learned from their parents--Mexican immigrants who, despite not having graduated high school themselves, made sure all seven of their children went to and graduated from college--that enabled them to conquer challenges and make history. They will speak frankly on the professional highs and lows, successes and scandals that constitute their distinguished careers, and show that the key to realizing your dreams is, above all else, always be true to yourself.
Often considered Congress's Odd Couple, these warm witty sisters are not only perfect role models for young Latinas in the US, but for all young women looking to break out and create a brighter future for themselves.