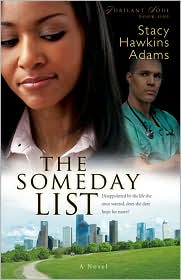 ABOUT THE BOOK:
Rachelle Covington has it all. A fabulous home, a handsome and prestigious husband, two beautiful children, and a place in the upper crust that's quite comfortable. But her life is not all it's cracked up to be. When her husband goes away on business trip and the kids are sent off to the grandparents for a month, Rachelle takes up the challenge of a dying friend to start a list of things to do before she dies. She heads back to Jubilant, Texas, to reconnect with her past, her purpose, and herself. But when her ex shows up in town looking very fine and very single, Rachelle must confront feelings she thought she'd long buried. Will she give up everything to recover the past? Or will she find a reason to plan for the future? The Someday List is an honest look at what makes us who we are and what can throw us off track. Author Stacy Hawkins Adams writes with a voice that is fresh, sincere, and completely real. Her characters jump off the page and into her readers' hearts.For more information about Stacy, visit her at
stacyhawkinsadams.com


My review:
The Someday List
moved me to tears on more than one occasion, but they were not sorrowful tears. They were the kind of tears that make you want to hug your family and show more love. The kind that make you want to ask for forgiveness and offer it to others. Everything about this story was done right. It was hard to put down and I kept wanting to pick it up at every opportunity to read it. I loved the themes, the spiritual lessons and the insight. This story went beyond the warm fuzzies and dug deep into the heart, but yet it made my heart sing, too.
Without giving away any spoilers I just have to say that I really appreciated the author's unique approach to forgiveness in a novel. Like having the characters look each other in the eyes and say what they really think so they can put the past behind them and truly love who they are with. I loved that. This story is honest, heartfelt, and contains flawed characters that make them seem all the more real. I was pulled into the story from the very beginning and could totally relate to the heroine's journey every step of the way.
I highly recommend this book and can't say enough good things about it! I just don't want to give away any pivotal points in my review so you have to check it out for yourself to see what I mean.
The Someday List
was published by
Revell
and released in January 2009.