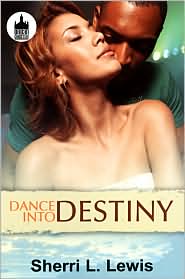 About the book:
An unlikely friendship beween a purposeless socialite and a purpose-driven church mouse leads them on a passionate pursuit of God's destiny and balance for their lives. Keeva Banks is in danger of flunking out of grad school--again. She can't seem to get it together, because, honestly, she doesn't really know why she's in school.She's desperately in need of a sense of purpose to give meaning to her life. Shara Anderson has that sense of purpose through her intimate relationship with the Lord, but needs some balance in her Christian walk. Through divine orchestration, the two women meet, and their lives are changed forever.
My review:
Dance into Destiny is the kind of story that makes you think about the characters long after you close the book. While it did have a bit of a slow start, once I got pulled into the pages I felt driven to finish it. I read most of the story in one sitting because I just couldn't put it down. I especially loved Keeva's struggle with her boyfriend and how well the author showed that she did many things just to please him even though they left her feeling empty. Once she saw godly relationships centered on Christ, she realized something was missing in her life. What a perfect illustration of how to love an unsaved friend and lead them to saving faith!
The importance of being honest with yourself and in your relationship with God is part of the spiritual thread, which is thick and strong and beautifully woven in to the lives of the characters. The author uses contrasting examples of what people think love is, and because it's so well done, the effect on the reader is deep and profound. This story is full of examples of real life issues that will grip your heart, and it's also about faith and friendship, and the source of real love.
Ms. Lewis knows how to create three dimensional characters like few authors can. She understands human frailty and forgiveness better than most, and it shows in the lives of her characters. Her insight is exceptional. I am thoroughly impressed with how well she paces the progression of faith in her characters' lives. She also shows the power mentoring can have in the lives of young people.
Her hero is downright dreamy. He's the kind of man everyone wants to have, yet he's flawed and real and by no means perfect. But his intentions are honorable and his heart is sincere. That makes for a great hero. I especially loved how he used street slang to reach out to the local kids. The way the characters teased each other also made me smile. I could see their expressions and felt like I was right there hanging out with them. I grew with them through their struggles. Nothing in this story felt contrived, and because I read so many book, for me, that's truly refreshing.
Dance Into Destiny
was published by
Urban Christian
(Kensington Publishing group) and released in January 2008.